School lunches have become a hot topic this year at Westlake High School. Most days, the lunch line wraps around the cafeteria and is filled with hangry students. But what has sparked such an interest in school lunches this year at WHS? 
Last year, the school offered free bagged lunches at the end of the school day. They included a main dish, milk, and sides. The lunches changed from day to day, but they followed a similar pattern of what was included. This year, the high school has continued this initiative by offering every student a free lunch at school. But this was a new experience for many people, including myself. Freshmen and sophomores had never been in the Demon Café. I haven't even bought a school lunch since 4th grade. For those of you who are unfamiliar with the café system, or are curious to start getting a lunch in the future, here is how the lunches work:
There are four main areas within the café. The first is the Pizzeria, which is located on the left. The Pizzeria rotates between white garlic pizza, fiestada pizza, and classic pizza. They also have Bosco Sticks and soft pretzels on occasion. 
Located next to the Pizzeria is the Demon Grille. Here they have a variety of sandwiches. The most popular item is the chicken sandwich, but throughout the week, they also serve meatball subs, pulled pork sandwiches, Italian and buffalo chicken subs, grilled cheese, and hamburgers. 
To the right of the Demon Grille is the Garden Fresh section of the Demon Café. Garden Fresh rotates between boxed chicken salads, salads with egg and cheese, and on occasion they have yogurt parfaits.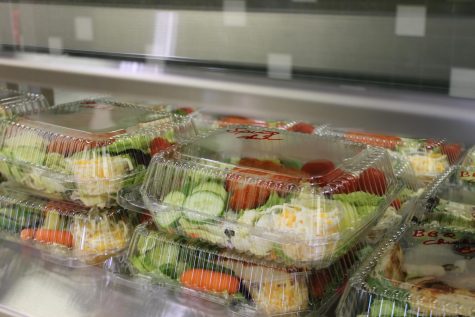 Finally, we arrive at Vintage Favorites. This is personally my favorite section of the Demon Café. Vintage Favorites is a serving bar that switches its contents every two to five days. The first thing they have is a burger bar. You get a burger and can choose from a variety of toppings including tomatoes, cheese, lettuce, and "boom-boom" sauce. Next they have their ever so popular pasta bar. You can choose red sauce, with or without meat, or alfredo sauce. Usually pasta is served with a breadstick. They also have a brunch bar, in which they serve waffles, funnel cakes, french toast, and breakfast sandwiches. Some other dishes served at the Vintage Favorites are mashed potato bowls, french fries, walking tacos, and homemade mac and cheese.
After selecting your main course, you also can get a white or chocolate milk, and up to two sides. Sides include apple juice, apple sauce, apples, cucumbers and celery, peaches, coleslaw, and bananas.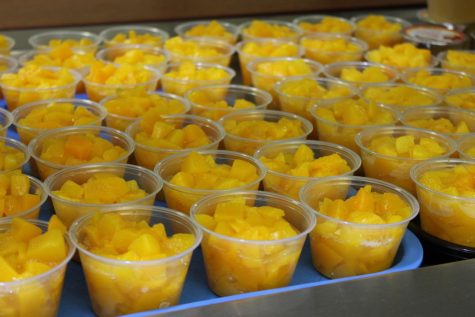 My favorite lunch at the Demon Café is the homemade mac and cheese. As a bonus, it comes with another one of my favorite foods: banana bread. I also enjoy the funnel cakes, pulled pork sandwiches, and the meatball subs.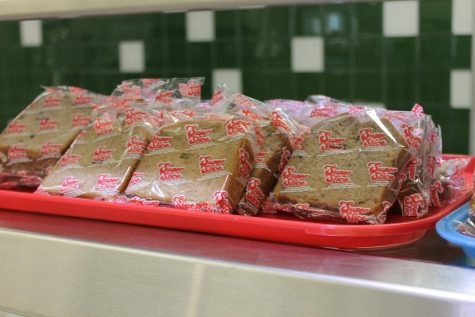 Overall, the free lunch program at school has made lunch more interesting. You never know what is going to be served that day, and it is fun to go in the line and find out. Everyone likes different foods, and it is interesting to see what different items your friends pick out. I look forward to lunch everyday, and the school lunches just make it better!