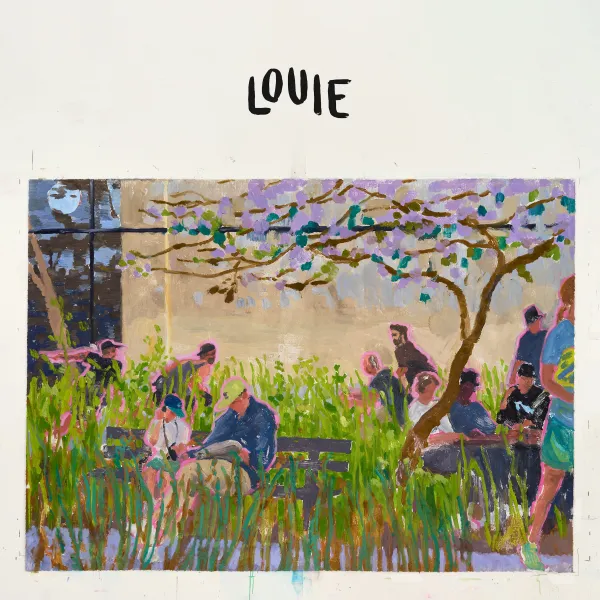 The Significance of "Louie" and Kenny Beats
The always entertaining, eclectic producer, Kenny Beats dropped his debut solo album: "Louie" earlier this year, and I think it's one of the most important releases in a long time. While I am going to talk about the contents of the album itself, I think what this record is, what it represents and so on, in the context of the world right now makes it so unique.
To give a little background on Kenny Beats himself, this man is a very talented multi-instrumentalist, who's been working with some of hip-hop's most exciting names over the last few years. Between his production on other rappers' projects, to his own show: The Cave, Kenny's influence has been all over underground hip-hop over the last few years. With that in mind, "Louie" is far from the upbeat bangers he's worked on with Dominic Fike, Rico Nasty and Denzel Curry.
For all intents and purposes, this project is a beat tape. But it's the first beat tape that's ever brought a tear to my eye. The backstory of this record is one of love, family and isolation. A gift to his father after learning that he was diagnosed with cancer. This is one of the most personal pieces of music I've ever heard. It feels like flipping through their household photo albums.
Upon a first listen I was reminded of legends like Nujabes or The Avalanches. It's a similar blend of a ton of different sounds and styles, with a warm 70s soulful glue that's sticking everything together. It's as lush as it is diverse. The impeccable mixing on the record helps guide you through all these different soundscapes that feel so vibrant. It's a beautiful time machine of sound that is sure to expose listeners to a wide range of music history.
On "Louie" Kenny has built the Avengers of genre-bending musicians that are working today. Remi Wolf, Dijon, Benny Sings and Paris Texas just to name a few. These are artists that thrive off making stuff that you've never heard before. For me personally, there's a weird sense of nostalgia that always comes with musicians like these. With the way that I've been describing "Louie" already, what a perfect project to include those who induce nostalgia.
While I'm not knocking people that stick to one sound or their influences all go back to one place. There's an X factor about those that take a little bit from everything. It yields music that scratches an itch in my brain that I didn't even know was there.
Another cool thing to mention about the collaborators on this is Kenny did not take the typical hip-hop producer role of getting a bunch of high-profile features and plastering them like billboards across the album, instead there are no features listed on the tracklist. When you do hear famous voices on the record, they're almost hidden or disguised in a way. This is an interesting way to reap the benefits of working with these people and seeing what you can make together, but there's non of the usual "greed" if that's the word I'm using, involved with shoving it in everybody's face that you got so-and-so on a track. It's the opposite of clickbait.
In a similar vein, we also get that with some samples, or samples of samples, etc. I've seen so many people talking about "hey is it just me or is there a Run The Jewels sample on this?" But again, in this dreamlike, flipping-through-a-photo-album vibe, the details aren't as important. It's this whole, therapeutic vibe that really matters.
However, I know that many of you will want favorite tracks, moments and whatnot. So in regards to that, "Family Tree" is probably the biggest candidate for a hit on this thing. Slowthai flows on this track like only he can and for an album that is pretty sweet and mellow, this one goes hard.
This is probably pretty specific, but "Parenthesis" feels like a perfect representation of the golden age of hip-hop. At around 30 seconds in I think that's Freddie Gibbs saying "yeah" and it's this kind of curation that amazes me. Once you hear this song and that "yeah", you won't be able to imagine anyone else saying that one word. It's magic.
The ending of "Moire" is absolutely ethereal. The drums on this song sound so good, there's a roll near the end that makes me feel like I'm flying. I'm not sure who that is on the outro but it sounds like James Blake and I love it.
All in all, I couldn't imagine a better gift for your dad, Kenny and I can't imagine how much he appreciates this and you. Thanks for making it and Thanks for being true to the music.