Westlake's Academic Challenge Victory!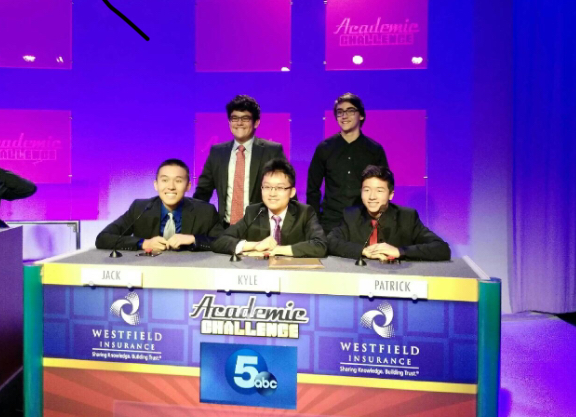 The Westlake Academic Challenge team competed in the News Channel 5 Academic Challenge Tournament in December and placed first winning 2000 dollars. Their show will air this Saturday, February 24, at 7 PM on News 5. Seniors Patrick Lee, Kyle Yu, and Jack Wu were chosen to compete on the show and here we've interviewed Kyle Yu about his experience.
What is Academic Challenge?
It's like a competition where it asks you about various types of subjects. Then you buzz in and answer the question. You want to get them right obviously; that's how you get points and win.
What did think you team did that led to its success?
We buzzed in quick. We got enough sleep. We eat our breakfast. What other answers are there? Ya, I think that's it. Drink water. Drink 8 cups a day. They say it's not true, but just drink it. Drink water anyway.
How do you prepare/study for Academic Challenge?
Pay attention during school,definitely. If you want to do some extra research, you can go on Wikipedia and look up stuff that interests you. Just do that.
What was the competition like?
There are three teams and sit in front of a live audience. There is a guy asking you questions
and you just buzz in.You will see on February 24th.
What do you enjoy about academic challenge the most?
Well I just enjoy knowledge in general. If I buzz in and I get it right. I will be like "yes, I know stuff!"
Were you nervous on stage?
Yes, I definitely was nervous. I don't know. Maybe you won't see it, but I was fidgeting a lot through the whole thing. Once I got into the last round, you will see what happened.
Do you focus on a specific topic?
I focus mainly on history and geography.
Thabk you Kyle! Be sure to show your support and watch the show this Saturday night at 7!