Westlake Instrumental Music Department Embraces Variety of Music Genres & Styles
It's a humid evening during a home football game at Westlake High School. The atmosphere is free-spirited and talkative, with several kids running under the bleachers and the kids on the bleachers going wild when Westlake scores a touchdown. At the edge of the bleachers, the marching band is huddled together on all the rows, with Mrs. Patriok standing atop a ladder to conduct them. During halftime, when the rival team finishes performing "Under the Sea" from The Little Mermaid, Westlake absolutely smashes with its marching band cover of Jay-Z and Beyonce's 2004 hit "Crazy In Love." With the trumpets and saxes delivering the melody hot and smoothly, it makes you wonder, "How many genres does Westlake Instrumental Music play?"
The Westlake Instrumental Music Department is a Music Division of Westlake High School that consists of several bands and orchestras. Being curious about the different styles these factions perform, Green and White decided to interview Mrs. Patriok about how diverse Westlake Instrumental Music really is.
*****
Green and White: First of all, what types of bands and orchestras does the Westlake Instrumental Music Department have and what genres do they play?
Mrs. Patriok: We have marching band, jazz band, concert bands, and the orchestras. In marching band, we play mostly rock tunes such as Heart's 1977 hit "Crazy On You" and the Beatles' "Eleanor Rigby" and others, such as pop songs and movie themes.  In jazz band, we play swing, funk, rock, and explore Latin styles as well. We play jazz staples such as "Fly Me To The Moon", Glenn Miller tunes, and "Sing, Sing, Sing,".
Green and White: What type of styles do concert and symphonic band play?
Mrs. Patriok: In symphonic and concert band, we play show tunes, classical, and, occasionally, movie themes as well.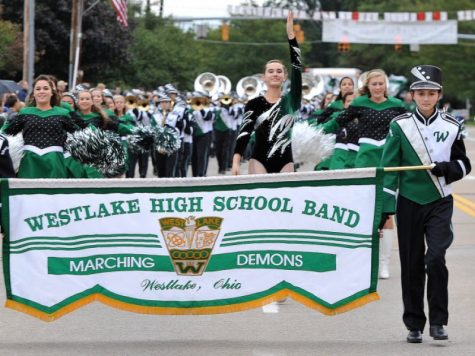 Green and White: How about chamber and concert orchestra?
Mrs. Patriok: In chamber and concert orchestra, we play, just like the concert bands, show tunes, classical, and the occasional movie theme too.
Green and White: Do you plan to explore and expand on new genres in the future?
Mrs. Patriok: When things pop up, we do that. For example, we got invited by City Music Cleveland and played David Bowie songs before orchestra was divided into concert and chamber. In all the bands, we're always open to new genres. In recent years, we've explored World Music from places such as Asia and are going to expand on that in a class called I.B music.
*****
Over the years, Westlake Music has been becoming more and more diverse in different music genres and styles. Tackling these has made it a terrific instrumental music area, likely to never disappoint critics and/or students. It has evolved so much it has become a giant filing cabinet of rock, pop, classical, world, movie, jazz, and among many other categories.