Restaurant Review: Ferris Shawarma
One of my favorite local restaurants is Ferris Shawarma, which offers a variety of authentic Syrian-style foods. They serve three types of sandwiches: Shish Tawouk (grilled chicken breast cubes that have been marinated in spices), Falafel sandwiches, and, obviously, Shawarma sandwiches (can be either chicken or beef). They also offer a variety of different platters, such as the Kofta Platter or Falafel Platter. A special side of mayo-garlic sauce can be ordered and goes with just about anything, so I highly recommend trying it out.
My favorite thing to eat from Ferris Shawarma is the Chicken Shawarma sandwich. What makes a Shawarma sandwich different from any other sandwich is the way it is cooked: the meat for the sandwich (whether chicken or beef) is cut into thin slices, and then stacked atop one another on a fairly large vertical rotisserie. I always eat my sandwich with the mayo-garlic sauce, and I get Vimto to drink (Vimto can best be described as a fruit soda). Usually, my family orders the sandwiches to-go, and we eat them at a nearby park. If you have never had a Shawarma sandwich, I highly recommend you try it because it is one of my favorite things in the world. The sandwiches are delicious, very filling, and greasy in the best way possible.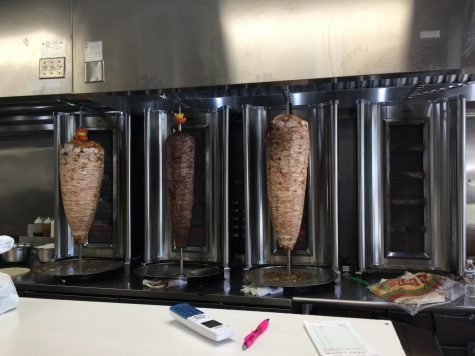 ---
Address: 13507 Lakewood Heights Blvd, Cleveland, OH 44107
Hours:
Sunday 11AM–10PM
Monday Closed
Tuesday 11AM–10PM
Wednesday 11AM–10PM
Thursday 11AM–10PM
Friday 11AM–10PM
Saturday 11AM–10PM