Demon Spotlight: Interviewing the Football Team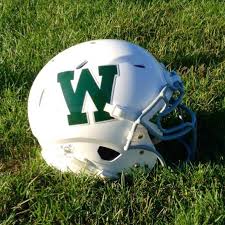 The Demons have returned! After a 15 game losing streak, the football team fought hard to bring home a victory in a game that was exciting (and stressful!) to watch until the end. However, it was all worth the wait as this game was just as thrilling as the Springfield playoffs- our last win. The Demons showed how hard they were willing to work for the win, pulling off a memorable comeback to beat the North Olmsted Eagles 34 -33. Here, we interviewed Dylan Bednar, Jacob Jablonski, Logan Rummel, JJ Coleman, Jorden Taylor, and Coach Hall to find out how they felt after this well-deserved victory.
GW: It's been 15 games since we won. How do you feel about breaking our losing streak?
Dylan Bednar: It was the most hype thing I ever experienced in my entire life. It was an absolute dream. One of the best nights in my life for sure.
Jacob Jablonski: It honestly feels really good.
Logan Rummel: It's quite amazing honestly. It was my first time ever experiencing a win as a player on the football team. Just that feeling was awesome. The students that were watching and the football team was great in general. [How long have you been playing?] I've been playing since my junior year. I decided to come in late. I got the opportunity to play and I'm glad I took it up.
JJ Coleman: It was amazing. It took a lot of time, a lot of hard work especially to make a comeback like that. It was just surreal.
Jorden Taylor: It feels pretty good. We've been working pretty hard even last season we were working really hard it's just that last season didn't go our way. This time we came out with the dub.
GW: What was the best moment of the night in your opinion?
DB: The best moment for me personally was when I caught that 60 yard pass—or 58 yards whatever it was. But overall it was definitely the last play of the game where we knocked the ball down, we won, and we were just- everyone went insane. The entire fan section rushed to the field. Yeah definitely that.
JJ: There were so many good moments. My touchdown, Connor Gregory sacking the quarterback, and Michael closed the game with his defensive stop. It was a close game. It really came down to the last forty seconds. We almost lost on a Hail Mary but our secondary held the ground.
LR: Just celebrating it with all my friends, the students, and even the band as well. It was just all good— all of us coming together and celebrating.
JC: The best moment of the night was probably when it was late game their last drive. They were in field goal range about to get ready to kick- they wanted to run one more play to get closer and Conner Gregory came up huge. He knocked them out and he forced them to throw one last pass and he obviously broke that one up.
JT: Once I saw Michael Augustyn back down the pass and the score was actually a final 34-33.  
GW: How did the team improve to pull off the win?
DB: Our offense, we overcame a lot of penalties, we were 2nd and 25 like 10 different times. Our offense really held together, and our defense showed up. When we were down by two touchdowns and everyone thought the game was over, we didn't stop fighting. We kept going, and I think that's what lead us to get the victory.
JJ: Well, we just came out to play in the second half. Yeah, the past few games- we didn't come out to play in the second half so doing that really helped us win.
LR: The offense really took control. They scored a lot and they carried out the momentum. I was just there to help them finish the game [You were the one who did the last kick, right?] Yes I was [That was really cool to watch, especially with the game being tied] Thank you, thank you.
JC: You know, the game before we kinda got smacked. We didn't really practice that well that week we didn't really know what it took to win yet because we're still a really young team. So we had to pull together and really improve the attitude going into the game. Obviously, North Olmsted has great players so it was just improving our attitude and the mindset going into it.
JT: We were all just working really hard. In practice, we would fly to the ball and we would practice as if it was a game.  
GW: For those who missed it, what was the game-changing play?
DB: I mean there was a couple, but I can't think of really just one. It was probably when we scored our last touchdown.
JJ: Like I said, there were so many good moments. It's really hard to narrow it down to one game changing play.
LR: I'd say it was when Jacob May made a 40 yard pass to Dylan Bednar to get us in scoring position and help us get over top of North Olmsted.
JC: The game changing play I would say would have to be when it was third down and twelve and I think they threw some kind of fade or something and Michael Augustyn throws it up which gave us the ball back. We went down and scored and it was just crazy.
JT: I'll give it to you straight. I think by me blocking the field goal, it changed the momentum and gave us a chance to come back and win the game.
GW: How memorable was this game on a scale from 1 to 10?
DB: Oh a ten for sure. I'm gonna remember this game for the rest of my life.
JJ: Definitely a ten.
LR: I'm definitely going to remember this for the rest of my life. Since this doesn't come so often I've gotta treasure those moments. It was just so fun celebrating with everyone and having a good time.
JC: Oh definitely definitely a ten. Just to win a late game like that is always a great feeling.
JT: It was right up there with Springfield's I think. It's probably like a nine.  
GW: Do you think we're going to keep this momentum going?
DB: I do. I think that we're going to win at least—at least three more games if not four.
JJ: Hopefully. This week is Avon which is a tough team but hopefully homecoming which is against Midview- home field, home crowd- then I think we can definitely keep it going.
LR: Let's hope. Hopefully we'll have some good practices. I know they (the football team) have their hearts in the right places and they're passionate about it. As long as that can carry them then we'll be fine.
JC: For sure, yeah. We know how it feels to win and we also know what it takes to win now. Hopefully we're looking to win at three or four more games coming in for the rest of the season.
JT: Oh yeah, for sure. We got a tough battle with Avon and Amherst but we got three games still left that are definitely winnable. We're still gonna try to win all of them— so Avon and Amherst we're still going hard at them too.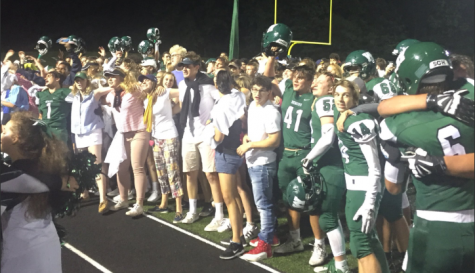 We also interviewed Coach Hall to see what he had to say about the big win!
GW: What did the team do differently that led to our win?
Coach Hall: I don't know if we did anything differently. We've been working really hard. I think the guys have been in a lot of games and different situations that didn't go our way. And I think we finally just kept fighting and fighting, and they got a come from behind win. We got a group of guys that have been working extremely hard all year—it started last December. And we're just happy for them to have a little feeling of success.
GW: What were some of the highlights of the game?
Coach Hall: I think holding their [North Olmsted] tailback to under a 100 yards rushing, he's going to Bowling Green to play football and he's a big physical running back. We did a really good job of limiting his yards. And I thought offensively we put a lot of long drives together which kept their [North Olmsted] offense off the field. Probably one of the biggest keys is we won the fourth quarter. We had two touchdowns in the fourth quarter, and we held them to zero points- and that ended up being a big key in the game.
GW: How do you think the game ended?
Coach Hall: It was exciting. I think if you are able to watch the film and you see them [North Olmsted] try to attempt a Hail Mary throw from midfield, and Michael Augustyn knocked the ball down. And just to see our kids, our student body, our band, and everybody celebrate after the game, it was just a great moment for our whole school.
GW: What was the difference from beginning to end? Did attitude, morale, or teamwork change in order for us to win?
Coach Hall: No, I just think we're getting better. We're kind of inexperienced and we don't have tons of depth on the team, so I think every week we've gotten better. And this time, two weeks ago we really played good against Avon Lake in the first half, but we didn't play good in the second half. This time we played a full game of fighting and not giving up and fighting through all the adversity that football or any team sport gives you. We overcame it and I think it was a great experience for the kids.
GW: Who stood out?
Coach Hall: We had a lot of people [that stood out]. JJ Coleman had 203 yards rushing. I thought Connor Gregory did an unbelievable job defensively. Pat LaVecchia did a great job defensively. Jorden Taylor, Jackson Gregory. Jacob Jablonski on the offensive side of the ball. Kevin Walls, and Jacob May. It was really a true team effort.
GW: Did you go in confident we would win?
Coach Hall: I knew we were getting better, and I knew this was a team we could match up with. So I thought if we played well and stayed focused and handled the adversities that come with a game, we would [win]. We turned the ball over, we had interceptions, and our kids just kept coming back and we won the fourth quarter. It definitely was a game I thought if we played four quarters we could win.
GW: Do you think we're going to keep this momentum going?
Coach Hall: Well I surely hope so. Our guys have had a great week of practice. We're on the back half of our schedule now so we obviously have some really tough games—our league's tough. But I like to see us put ourselves at least in position to win games this last stretch.
Leave a Comment