Fashion Focus- Mitchell Corrado
December 12, 2019
How would you describe your style?
I would describe my style as sophisticated, kind of high-class, in the more menswear section of fashion. I take a lot of inspiration from people like Tom Ford; he's a big fashion designer of one of the higher end brands. I like mimicking that look. I think it's good for a mature style—I think it's a great look to go for if you want to look mature towards somebody else and show that you are very well-put together. 
Do you think a lot of people can judge your personality by what you wear?
I dont think your personality is judged. I think what you like is judged. So fashion, to me, is a way to express yourself through what you wear. Whether that be your interests or something that you like, or maybe a certain style that you like. It's just the way you express yourself. So it's not always just personality that's judged, but people can look at you and maybe tell your interests and what type of person you are, but not everything about you. But it can definitely show your outward expression of yourself.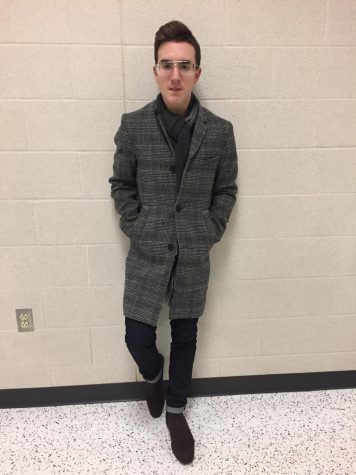 What interests do you express through your outfits?
I express my interests of finer things and finer culture in life. Just looking nice everyday to me is how I express myself. That sort of high class, society-type thing. But there's nothing wrong with dressing more street or more urban because fashion is just not categorized into one certain type. You can dress urban with joggers and ripped denim, or more high class with a little more items and apparel. It could be anything, and I feel like it's just important to find what you like, dress the way that you like, and usually people catch on to that. 
What stores do you usually shop at?
I think my biggest source is H&M because they have a pretty decent price point for the quality they give you. I also shop a lot online, like on Boohoo, which is out of the UK, and is one I have ordered from a lot. Every once in a while, I pop over to thrift stores or vintage stores just to see if I could find anything cool for a cheaper price. Nothing is wrong with used clothes—I think it's a good way to recycle fashion.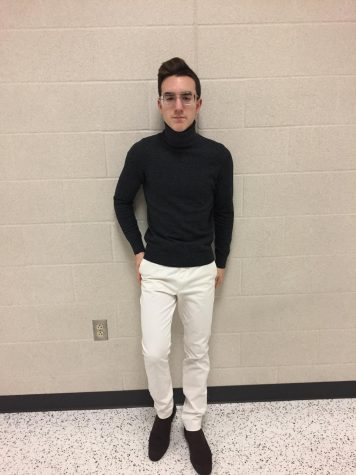 What is the most expensive outfit you have ever bought
Well, I bought some boots for like 170 bucks. Of things that I wear everyday are my coats—my trenches, pea coats, overcoats. Those are about a hundred bucks each. I don't go over $250 usually, and I usually stay in between $100-150 for the higher end stuff.
At H&M what do u usually look for, anything in particular?
When I'm looking for things, I look first at the mannequins because the mannequins are styled by real professionals. So things that they put on the mannequin typically pan out to be good. The second thing that I look for is just deals. I go around and look for things that I like that are on sale—if they're on sale usually it's a pretty good deal. The third thing I look for is the quality of items. H&M offers many different types of clothing, from low-end to high-end. They have their own in-house brand, they have "Divided" and stuff like that in collaboration with different artists, musicians, and athletes. So you can always find some interesting things in there.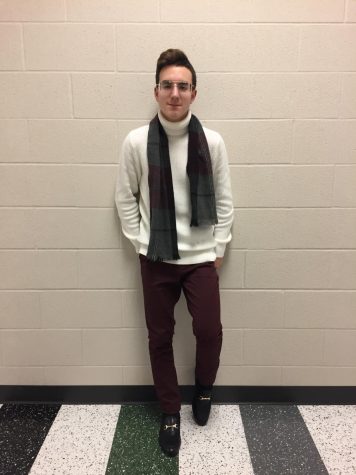 When you go to school, what is a typical outfit?
My go-to outfit is probably some nice chino pants or dress pants, and some chukka boots or some loafers. And then typically a turtle neck or some sort of nice shirt, and then I use a scarf as an accent piece. I also have my glasses, and the way I style my hair. I wear rings a lot as well just to give my outfits a bit more of a pop, which is one thing you can do to an outfit if you feel its too plain. It's the little things that can improve your outfit.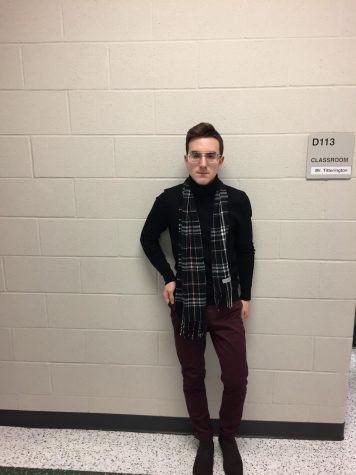 How do people usually react 
I get a lot of positive feedback, I feel like people understand that what I wear is expressive and I like it a lot. I feel like I'm very well-known for being a fashionable man. Obviously I can't please everybody, but most people who I do see in a day, friends or not friends, compliment my outfits. I think it's a great way to stand out.
Have you ever gotten any negative comments
Oh yeah. I have met people who called me derogatory names. But if people say that, they just don't understand my style and aesthetic. When you wear something that you like make sure you wear it because you like it—not because someone else likes it. You should wear it because you genuinely like the look you have on. That's what I always think about. There's going to be some people who like what I wear, or don't like what I wear, but I can't please everybody. So I just sort of push it aside and disregard negative comments. Overall, I get very few negative comments.
What's the most unusual thing you ever wore?
I used to wear these paint splattered jeans that I made myself, and I wore them a lot last year—I probably should start wearing them again. I do like them. I also had a pair of pants that I cropped. I wrote the word rose down the right leg of the pants and I put thorns and little buds on the side. They were cool and I liked them a lot too. I do a lot of my own clothing customizations, so I paint my clothing a lot, and crop them for alterations if I need to.