Academic Challenge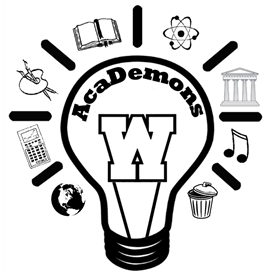 Advisors: Mr. and Mrs. Packis
Team Captain: Kyle Yu
Website: http://www.wlake.org/our-schools/westlake-high/staff-directory/whs-teacher-page/~board/teacher-pages-whs-john-packis-board?post_category_id=374
What is Academic Challenge?
Our WHS and LBMS Academic Challenge teams are award-winning groups that compete in both local and national quiz bowl tournaments.
Who participates in Academic Challenge?
Students with a variety of strong intellectual interests who are alway motivated to learn more.
When are practices?
Typically twice a week, one practice in the afternoon and the other in the morning. Currently, practices are after school on Mondays and before school on Friday mornings in C108.
What are competitions like?
Teams use buzzer systems or computers to quickly answer academic and trivia style questions.
What is the time commitment?
Students are expected to come to practice (about 1 hour each), compete in competitions, and study further outside of school.
Saturday tournaments usually run from early morning into the afternoon.