Meet Matt Beaver
Get to know Matt Beaver, The Green and White's November senior feature.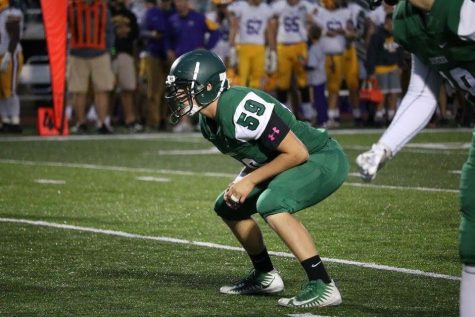 What sports do you play?
"I play football and track. Because my family has always been involved in sports throughout my life–they always watch sports. I just though I'd get involved in sports through them. And I just stuck with it."
Why do you like football and track?
"In football, I like the team aspect of it. I like participating with all my teammates. And I like the competitiveness each game. I've been playing football since the third grade; I started with flag football. I like track because it's more individual. I like pushing myself, continuing to get better throughout every track meet."
Who's you favorite teacher?
"That'd probably be Mr. Bingham, my freshman football coach. He really inspired me to keep going and continue athletics."
Do you have a favorite high school memory?
"It would have to be the Springfield game in the playoffs last year because it was the second time Westlake has ever been to the second round of the playoffs. It was a big accomplishment for both me and the school."
What's your favorite class?
"My calc class. It's very engaging; you have to stay on top of everything so you've got to work hard. In the end, it's very rewarding."
Do you know what you'll do in college?
"I'm looking to study engineering. I don't know what type yet, but hopefully get into that. It runs through the family. Both my uncles are engineers, and my brother is studying to be a chemical engineer."
Do you have a favorite food?
"It'd have to be steak."
Favorite steakhouse?
"The Cabin Club."
If you had a superpower, what would it be?
"I'd want to fly, so I could go anywhere."
If you had one day, what would you do with it?
"I'll be cheesy with this. I'd spend time with my friends and family if it was only one day."
What's your biggest success?
"Lettering in all my sports. I'm a three-year letter-winner in football, and I'll get a letter this year in track."
Who's your partner in crime?
"My girlfriend Emily Nester."
What schools are you thinking of?
"Either Ohio State or Miami. Always wanted to go to Ohio State because of the tradition there. Miami has a good engineering program that's up and coming."
Do you have any role models?
"My parents. I follow their actions. They've been leaders throughout my life through what they do and how they do it. I just learn from them and their actions."
Do you have any other reflections over high school?
"It's been a great experience overall. Underclassmen coming up, make sure you're on top of everything, then you'll be fine."