Get To Know Gabe Leonard
Meet our February Senior Feature, Gabe Leonard!
Megan Stewart, Editor-In-Chief
February 23, 2018
Hang on for a minute...we're trying to find some more stories you might like.
Favorite high s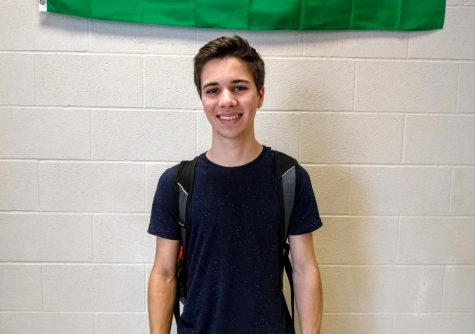 chool memory?
Competing in the ping-pong tournament sophomore year, but not the losing part, because I really like ping-pong. And I got to play in front of the school, even though I lost. So, that was a good time.
Favorite class?
AP Stats last year.
If you could only eat one thing the rest of your life, what would it be?
Beans and rice.
Favorite restaurant?
Thai Spice.
Where's a place you want to live?
I would like to live in Maine, in the mountains, or Canada because of the solitude and nature.
Do you travel often?
About once a year, I travel to do something outdoorsy like backpacking or hiking or something adventurous like that. Takes me out of my comfort zone a little bit.
Who's your partner in crime?
My trombone.
What type of music do you listen to?
Mostly instrumental, brass band, but I'm trying to branch out so I can catch up on pop culture.
Do you have a favorite artist, album, or song?
I don't know if this is my favorite, but "Stand By Me" by Ben E King is a good song.
What extracurriculars do you do?
Mostly music like jazz band, symphonic, marching band, pit orchestra, but I'm also in ultimate frisbee club, and NHS.
Best movie in your opinion?
"Shawshank Redemption"
Favorite club?
Frisbee club, we only get to play in the spring and summer, but it's a lot of fun.
When and where do you have the best time?
Small groups of people, or if I can be outside with small groups of people, I usually enjoy myself.
Are you modern or born in the wrong era?
I wouldn't say I'm the description of the stereotypical millennial. I'm not sure I'm much led to believe people can be born in the wrong era. I have some old-timey habits about me. A lot of people call me an old man or a grandpa.
Do you have a favorite era?
Not so sure I have an answer for that one. Early 1900s when jazz was starting to become a thing, that would be kind of fun to experience.
What are your plans for the future?
I plan to attend college somewhere, not entirely sure yet. Probably will major in something like economics or political science or something with math. I want to be able to use math to solve world problems, but I want to be able to communicate with people, not just be a number-cruncher.
Are you excited or nervous for college?
Very excited.
Do you have an ideal location?
Nowhere really ideal, I'm still waiting to hear back from some of the schools. My top choices would be Lehigh, Northwestern, Purdue, or maybe Denison.
Do you read? If so, what do you like to read?
I don't read a whole lot on my own. I should read more. For school, I enjoy reading the darker themed novels or even nonfiction. My favorite book is 1984 by George Orwell.
How do you spend your free time?
I practice trombone a lot, usually about an hour a day. I like to run, exercise, that kind of stuff. Go for hikes. Keep a balance between being productive and not stressing myself out.
Where do you like to go hiking?
I'd like to hike in the Rockies, but I haven't actually been there. But most of what I've done is the Appalachian trails. I've gone up to a hundred miles at this point.
What's your dream or aspiration if you have one?
I don't really have a set dream or aspiration, but, I guess, if I'm 80 years old looking back at who I am, really from a career standpoint, I'd like to be learning constantly and do something that changes the aspects of our world, have some sort of impact on climate change sciences or legislation or something like that.
How was your time in high school?
I think that myself and everybody else who goes to our high school are very fortunate that we have the environment that we do. With that being said, I am very ready to move on to college. Just I'm ready on be on my own.
If you could go anywhere in the world, no matter the cost, where would you go?
I'd like to check out New Zealand.
If you could be a superhero, who would you be?
I like Iron Man. He's pretty cool. Probably not the Hulk.
Who's your role model?
I probably don't have one set role model. But, my teacher for trombone, Mr. Fortini, he's very old, but a very sweet little man, and I've gotten to know him well over the past few years. I look up to him; he's just a very happy person. I've learned a lot from him, like how to be a good person.
If you had all the time and money in the world, what would you do with it?
Not sure what I'd do with all the money in the world, more of a believer in having enough to get by rather than having more than I know what to do with. If I do end up having a lot of money, I'd like to think I'd give a lot of it to things I see fit. And with time, spend more time practicing the trombone. I think I could have a certain amount of potential if I could just have enough time during the day to work on it.
Favorite car?
Not a huge car guy, but my little Toyota Corolla, good gas mileage, recommend it.
Looking back on highschool, what's something you wish you did?
Kind of wish I ran cross country, but that's kind of difficult with marching band. I like running. I wish I'd done that.
How do you reflect on your high school experience?
Very thankful to have had good teachers, especially the past couple years. I've really enjoyed my classes, and I feel like I've grown intellectually quite a bit. I am thankful for that.