How would you describe your style?
Colorful and extra.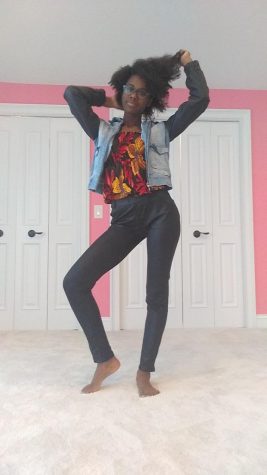 Why do you say extra?
Well, not a lot of people wear bows in their hair, or puffball earrings, but it just makes me so happy to wear bright, weird, quirky things that not a lot of other people wear. My clothing is basically just how I feel on the inside, and my whole soul is just colors and shapes and hearts and fireworks. So I express all of that in my clothing.
What's your favorite color to wear?
I don't have a favorite color because I think that all colors should be loved equally. But I do like the color olive on me.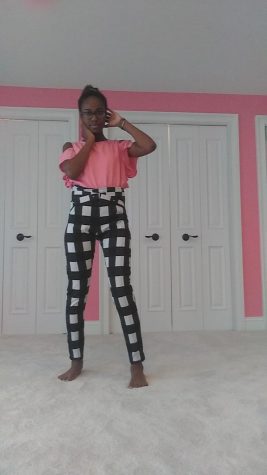 How much time do you spend choosing your outfits?
I have my closet memorized, so when I try to go to sleep, I'll pick out my clothes for the next day. So maybe like five minutes, and then I go to sleep, wake up, and wear my outfit
Do you organize your closet in a certain way?
Yes! I have two closets. One is for winter and fall and the other is for summer and spring. And each of those closets is organized by the type of clothing and then by their color. So all my leggings that are together have the same colors as the ones beside them. And all my dresses are next to each other and the same colors stay with each other.
How about shoes? Do you have a certain taste for shoes?
There is already one pair of shoes that I love so much and they're high top sneakers with an emoji at the tip. I got them when I was in 6th grade when I went to New York, but my feet grew out of them, and I can't find them in a new size anymore! So that is my favorite type of shoe, and I would wear that any day. But in general I prefer high tops and sneakers.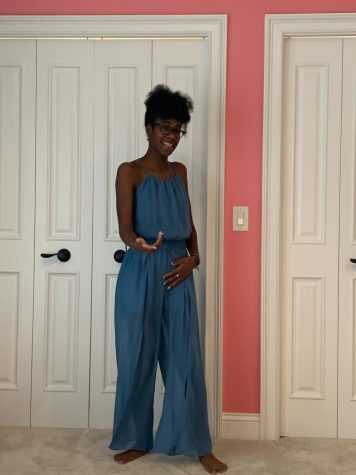 Where do you get your clothes?
I get my clothes from the thrift store.
Any specific one?
I usually go to Volunteers of America because it's the closest, but really I'll just go anywhere: Goodwill, Savors—but Savors is an expensive thrift store. It's really nice too because there was this one time I found a $600 dress that they were selling for only $5. 
Do you have any other favorite store that you like to go shopping at?
Forever 21—but they just filed bankruptcy, so… I am sad… but we're okay.
Why do you like to go to Forever 21?
I like their styles a lot. They have really nice patterned pants which I love since I don't like to wear jeans necessarily, but I do like to wear nice pants. Not solid colored pants though, I prefer pants that have stripes or stars.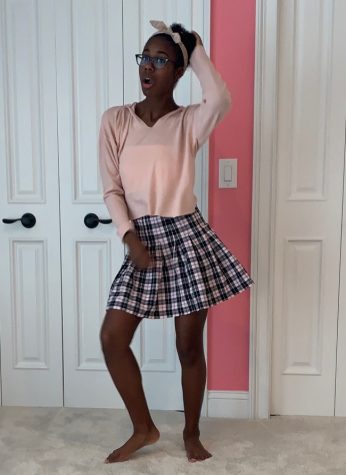 What's a typical summer outfit?
A typical summer outfit… probably shorts and a crop top.
How about winter?
Leggings with combat boots and a nice sweater.
Earlier you said that you like to express yourself through your clothing, can you elaborate on that a bit more?
People who know me well would say that I am a very loud person. I get excited over little things and I'm always smiling. So I like bright colors and I feel like simply wearing the clothes makes me feel just so with the world, alive, and myself.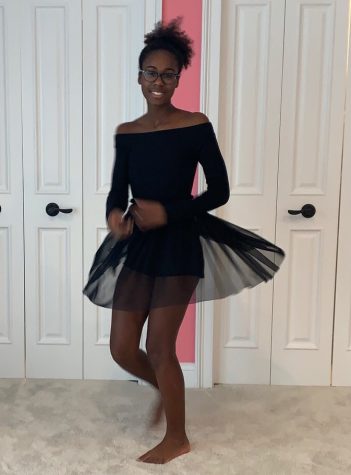 Do you think you get a lot of attention from people around you about what clothes you wear?
Definitely! I get a lot of good compliments, but then I sometimes get bad comments. Like one time—this is a funny one—Mr. Planisek said that he could see me from all the way across the hall because I had on a neon sweater with neon leggings. A bad comment that I got was that someone once said that I dress like a ten year old, and I'm like… "That's great!" Ten year old clothes are so cute, oh my goodness, they just need to make them in women's sizes, and I would be buying all of them. The good compliments are usually just people liking what I'm wearing.
Do you ever get discouraged when people comment badly about your clothing?
Sometimes it really hurts. There's this one time where I had just tried out a new hairstyle, which I consider part of my outfit. I had worn my hair naturally, which I hadn't done in a while, just because it's kind of hard to keep tame because it'll just keep frizzing out and frizzing out. So, one of my friends told me that I looked like I got electrocuted. I told my parents about it and they were like "Yeah that's not okay…" because it was kind of a racist comment. That was the only time I was really discouraged about it, and that person is no longer my friend. But other than that, I just brush it off now, like, "Oh you don't like my clothes? Too bad for you. I'm sorry I'm not wearing something that you like. I didn't know that I had to ask you for permission. And did I ask for your opinion? No." I'm happy with what I'm wearing—if you're not happy with what I'm wearing, I don't need you.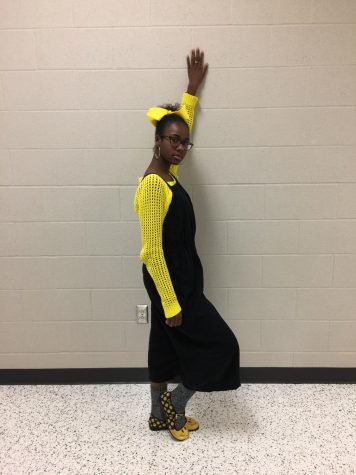 Can you talk a little bit about your different hairstyles and experimenting with those.
I watch a bunch of YouTube videos of naturally curly, short hairstyles. And some of them include space buns and the fro-hawk. But it's really hard to do my hair sometimes because it's literally like a weed. I'll put it down and it'll be fine for a second, but the next second it'll be popping up again. But I try to have different hairstyles; I try to not keep the same hairstyle every day of the week unless I'm lazy then I'll just keep it back in a ponytail. Changing my hair makes everyday something new and interesting. 
What is the most crazy outfit you've ever worn?
The outfit that first comes to mind is my Pepsi outfit. It was the Pepsi blue pants with red high top sneakers and then a Pepsi crop top with the Pepsi logo on the side. And the day I wore it I walked around with a bottle of Pepsi too. A bunch of people asked me questions like, "Mia do you work at Pepsi or something?" and I was like, "No." So I think that would be my craziest and most fun outfit that I've ever worn.