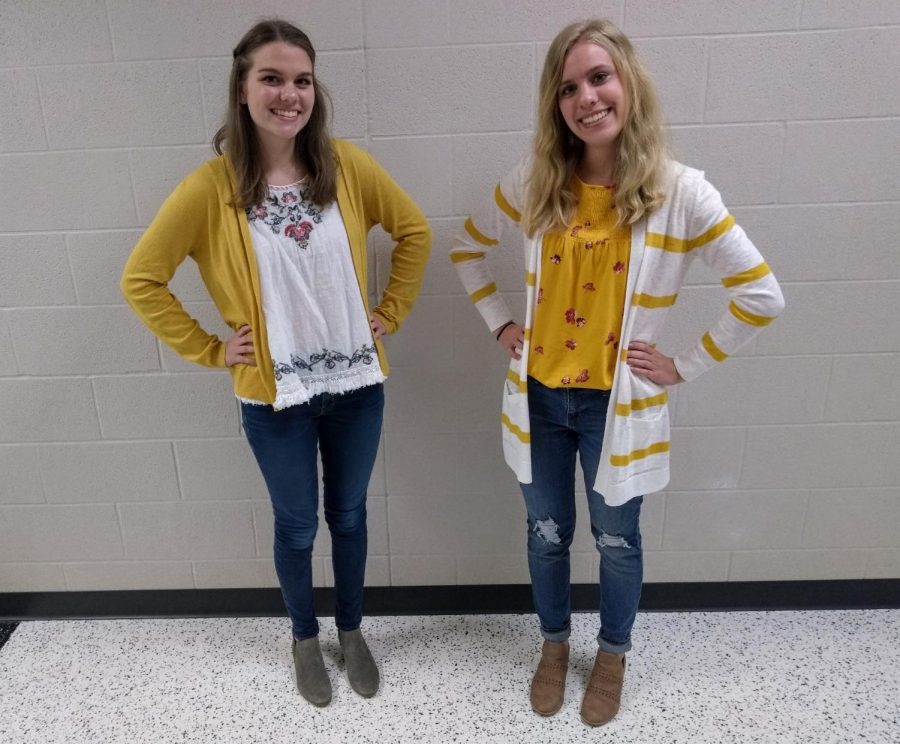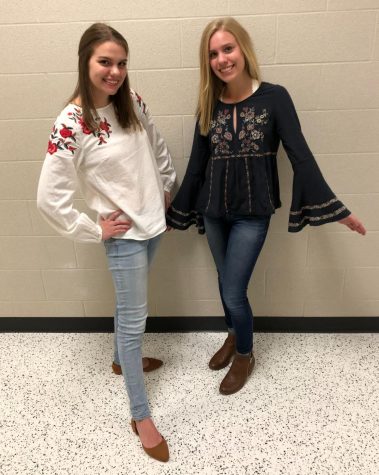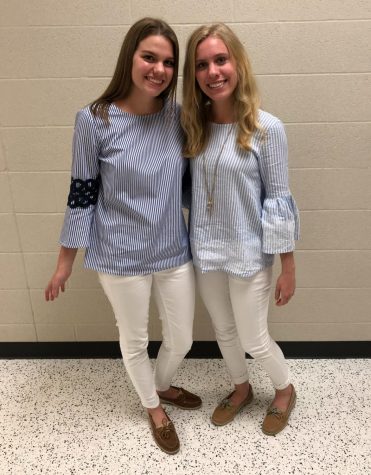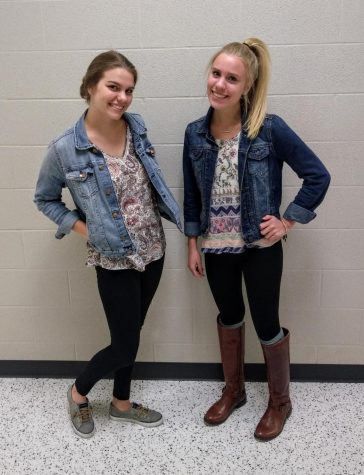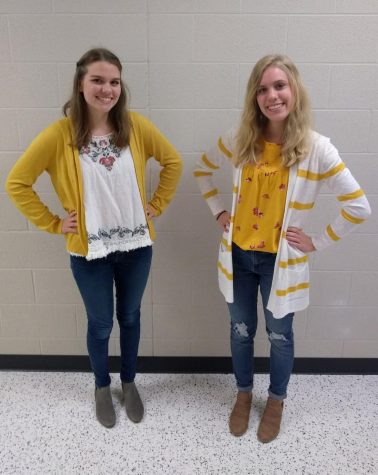 GW: How would you describe your style?
Jennifer Wagner: In general, my style is very "classic," as people would probably say. I enjoy putting together nice outfits and looking nice. However, some days are more "preppy" and some days have more of a "boho" flair.
Rachel Wagner: I would probably describe my style as very preppy and yacht club casual. As you have seen, I am always wearing something kind of stripey, and Sperry shoes always make their way into my outfit. I have this one striped Vineyard Vines pullover that I always wear with jeans and grey Sperrys which is probably the definition of my style.
GW: What are your favorite colors and pieces of clothing?
JW: I don't necessarily have favorite colors to wear these days, but when I was little, I made sure to wear bright pink everyday! There are also certain colors that don't look the best on me like blush and light yellow. I love florals and anything with interesting seams or sleeves. I'm also a firm advocate of jewelry — it makes any outfit more interesting. I also have a slight (big) obsession with shoes…especially boots. I love my tall leather boots, Hunters, and ankle boots. I tend to attribute it to my ancestral roots. One side of my family owned a shoe-making shop before arriving in America.
RW: I go for a lot of stripes, and I always wear jeans. I am not really a fan of leggings because I always get really cold when I wear them. I'm always cold. I also like to wear the color navy blue. It's so versatile and can be worn in any season! I also like to wear a cardigan of some sort, and I have to be comfortable in what I'm wearing. And if I forgot to stick a sweater in my backpack that day, then I will usually just wear my windbreaker to stay warm and comfy. My motto is comfort over style.
GW:  What's your personality like? How does it compare to your twin's?
JW: My personality is probably different depending on who you ask. Some people think that I'm very quiet and serious, and some people think that I'm very bubbly and outgoing. I'd say that my personality is a combination of all of those. In comparison to Rachel, she definitely wins on the outgoing scale. She can talk up anything with anyone at anytime of the day!
RW: My personality is definitely way more outgoing than Jennifer. Although I will admit, I do have a shy/quiet side, but it isn't often when that happens. I could probably talk to anyone about anything because I love talking to people. I'm also more spontaneous than Jennifer. Jennifer is way more organized and serious than I am, but we are still pretty fun people!
GW:  Does your style reflect your personality?
JW: Yes, I like to believe that my style reflects my personality. Some days I'm feeling more neutral and calm, but other days I feel like looking nicer and fun.
RW: Yeah, I think my style reflects my personality, I kind of wear what I want and it's very "Rachel" if that makes any sense. I kind of feel like I have made a clothing brand of myself and my name is the title of it!
GW:  Do you shop separate or together? Do you share clothes?
JW:  Normally I shop without Rachel. On the other hand, Rachel almost always wants me with her when she goes shopping. But when she does go by herself, she always sends pictures to me before she buys anything. I take that as a compliment! I'm honored that she values my opinion, even though everything always looks great on her!
RW: I usually need Jennifer to shop with me. I can't shop by myself, otherwise I will come home with something that doesn't look good or doesn't fit quite right. Jennifer likes to shop by herself, and I'm okay with that because she usually takes ten thousand years to try things on! We usually don't share clothes because we're different sizes and have slightly different builds so things she has don't fit me quite right, and vice versa.
GW:  Where are your favorite places to shop?
JW: My favorite places to shop are Francesca's and American Eagle without a doubt. I always enjoy going in there and finding something. It's rare for me to find something I don't like! I also don't online shop very often. I like to try things on before I buy. Rachel says that I always take forever trying things on.
RW: I like to shop at Old Navy, Gap, Nordstrom Rack, and H&M, though H&M is usually very hit or miss, so a lot of times I will go in there but end up not finding anything that I like. I always love a deal or a sale because who doesn't like a good sale?
GW: Was it hard to dress like your twin some days?
JW: Yes, it was very difficult to dress like twins some days. Our styles are a little different. The outfits pictured are the only similar things that we have. We don't really share clothes either, which people find very surprising.
RW: I think it was kind of hard because we quickly found out that we didn't have too many things that were super similar, partially because are styles are kind of different but also because Jennifer has three times as many clothes as I do! It was pretty funny seeing our friends' reactions though — that was probably my favorite part. We don't dress the same very often so when we do, it makes everyone do a double take.
GW: Did you feel comfortable wearing something your twin usually wears?
JW: Of course I felt comfortable wearing similar things! It helped that our styles are somewhat similar. The only uncomfortable part was the fact that this was deemed a "competition." I felt like I had to look extra good those days. But overall, it was fun putting outfits together (even though I did all the work of digging through our closets)!
RW:  I felt a little uncomfortable wearing the same thing as Jennifer everyday because a lot of what we wore were more her style and she tends to dress up a little bit more than I do. For example, jean jackets are not exactly my speed, but it was fun to change it up a little bit! It was definitely fun, and I would totally do it again!
As of May 31, Rachel won the challenge with 10 votes, 9 people said it was a tie, and Jennifer got 7 votes.