Westlake Porter Public Library Uses Ambitious CS First Program for Young Coders

It was December 3rd, and I was going straight from the school to the library after the day to get volunteer hours from the VolunTEENS program taking place at it. When I went to the computer lab where Code Club for grades 3-4 occurs, the kids usually go on Khan Academy for lessons or Scratch 2.0 to code programs such as animations and games. However, Jennifer Norton, the S.T.E.A.M librarian, told me and the kids that we're going to do something special for Computer Science Education Week (December 3-9) involving a program not only housing an updated version of Scratch, but also an efficient way to make kids not only consumers of technology, but also creators.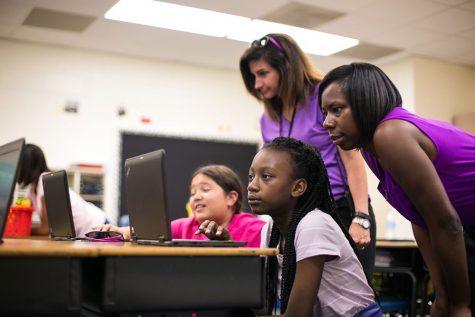 CS First is program set up by Google, with the completed version (along with Scratch 3.0) launching on January 2, 2019. The program, according to the Google support website, provides "free, easy-to-use computer science enrichment materials that engage a diverse student population in grades 4-8." In other words, it's a program designed to educate beginner computer science to kids. This program is used by parents, teachers, and librarians across the nation, and is used by up to a million people in 30,000 classes and 75 countries and more. The CS First w/Google website shows a total of nine themes that can be integrated into coding practice, which are storytelling, fashion, social media, art, music/sound, sports, game design, friends, and animation.
The Porter Public library's premier CS First activity was titled "High Seas Adventure" that occurred a few months prior to Computer Science Education Week. The American Library Association (ALA), offered mini-grants to libraries who used Google's First Hour of Code activity for a program. Jennifer's boss, Debbie, applied for this grant, which is meant to celebrate the upcoming Ready to Code Collection website.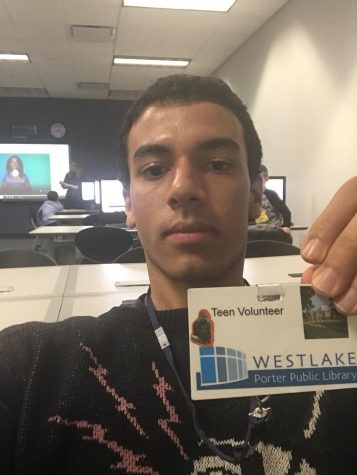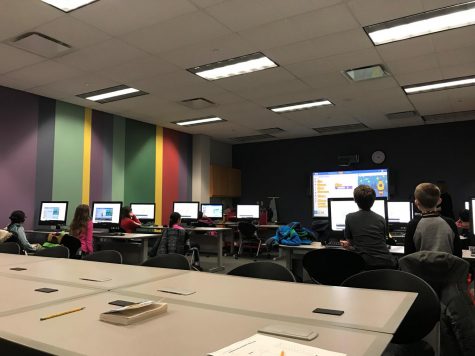 -A teen (me) volunteering at the CS First-themed Code Club on December 3rd
The librarian told the audience of the moment that we would be using Scratch 3.0 to complete a series of coding activities known as "An Unusual Discovery." After watching how-to-do videos on Google's CS First Hour of Code website, students would have to code an animation where two characters talk about finding an unusual object. After completing each part of the activity, coders were able to earn prizes, in which the first prize was a fidget cube. With the activity consisting of two parts, the second part was adding-on to your animation, with the add-ons such as making an object bounce, extending the conversation between the two characters, adding music, and more. Following the completion of the second part, coders earned silly putty in a blue egg as their final prize. At the end, students received a certificate congratulating them for completion of Hour of Code 2018.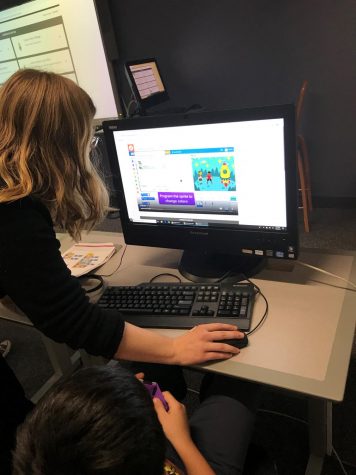 -Jennifer Norton aiding a kid in the "An Unusual Discovery" activity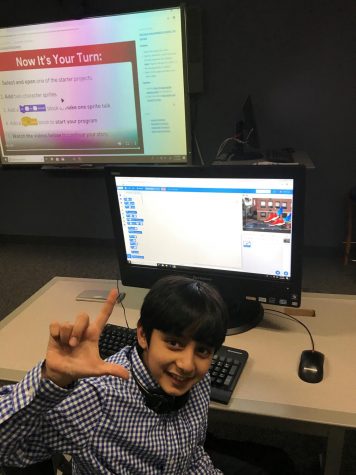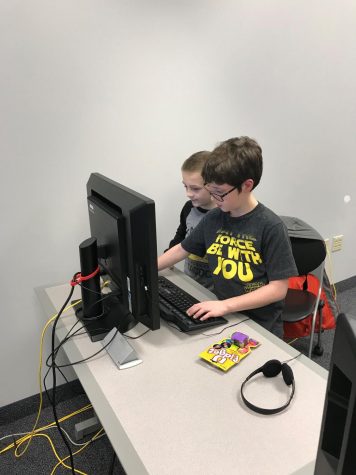 -The kids of Code Club had a lot of fun helping each other and being creative with their creations during the Computer Science Week Code Club
Jennifer says that the library is planning to do CS First activities with Scratch 3.0 more throughout the year. On the Wednesday following the code club I volunteered in, the library taught a group of Girl Scouts how to use Scratch 3.0 with music and sound. They're also going to take advantage of Thursday's Code Club in addition to Monday's.