Cooking Corner: Testing Rolled Ice Cream
TRIAL ONE: OREO STRAWBERRY
Ingredients
1 cup of heavy whipping cream
About 6 ounces of sweetened condensed milk
6 crushed Oreos
A handful of diced strawberries
Steps
I put whipping cream and condensed milk in a mixer
Then I added the Oreos
Then the strawberries
Mix. The texture was very fluffy and whip-cream like
Scoop it and spread it into a lined baking sheet
Freeze overnight
Roll with the help of a spatula
Results
It definitely did not roll, but because it tasted pretty good, I'm considering this a semi-fail. Since I let it mix for too long, it became almost like an Oreo whipped cream. After I froze it, because of the fluffiness, it broke up into chunks when I was trying to roll it. You can really taste the Oreo, and the strawberries gave it a nice refreshing kick. (The Oreo masks the flavor of the condensed milk if you were wondering). I blame myself for it not rolling because I let it mix for too long. According to my little brother, "This wasn't a fail. This is amazing."
If you don't care about rolled ice cream and just want to make some ice cream at home, I would definitely recommend trying this "fluffy" recipe.
(This could serve 3-4 bowls)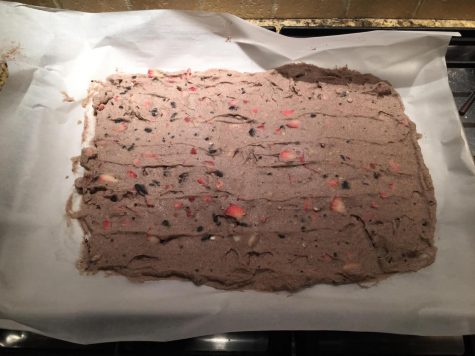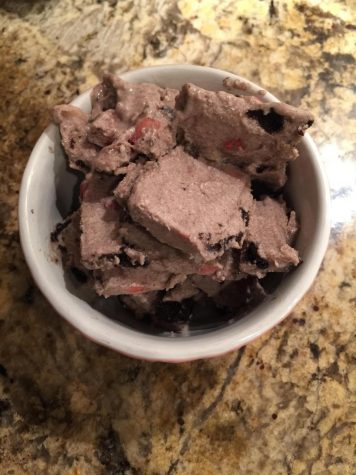 ---
TRIAL TWO: OREO STRAWBERRY
Ingredients
1 1/4 cup of heavy whipping cream
About 8 ounces of sweetened condensed milk
7 crushed Oreos
A handful of diced strawberries
Steps
I put whipping cream and condensed milk in a mixer
Then I added the Oreos
Mix it until they combine, but before it becomes like whipped cream
Pour it in a lined baking sheet
"Sprinkle" the strawberries
Freeze overnight
Roll with the help of a spatula
Results
Success!! These ones actually rolled. It was my first try, and I couldn't make them as pretty as the ones you'd get at an ice cream shop, but at least they're rolled. When I got it out of the freezer, the ones that rolled the most easily were definitely the thinner layer, but they also melted pretty quickly. You have to work fast with these. It tasted the same as the first batch. (I only made the quantity larger because I had more condensed cream left over)
(This could serve 3-4 bowls)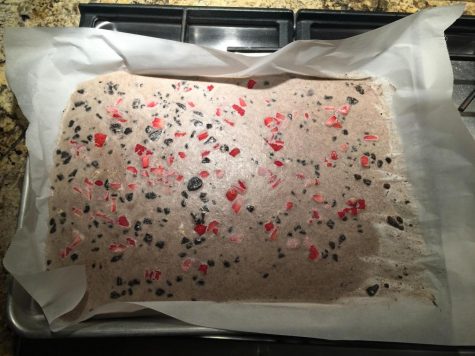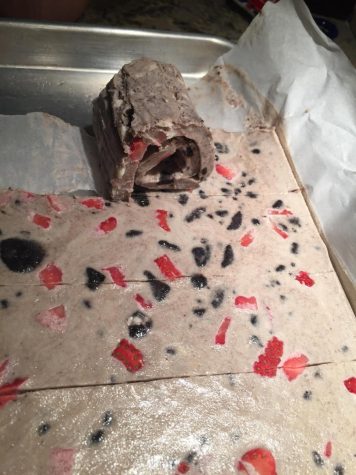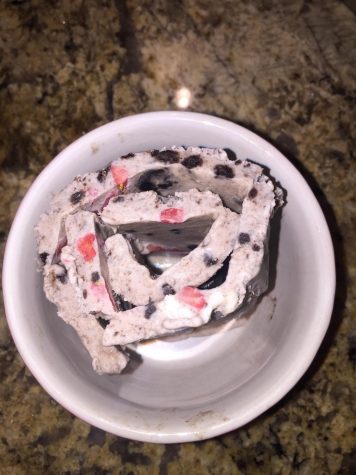 ---
TRIAL THREE: ALMOND BUTTER & JELLY
Ingredients
1 cup of heavy whipping cream
About 6 ounces of sweetened condensed milk
1 1/2 tablespoons of almond butter (can be substituted with peanut butter)
About a tablespoon of strawberry jam
Steps
I put whipping cream and condensed milk in a mixer
Then I added the almond butter
Mix it until they combine, but before it becomes like whipped cream
Pour it in a lined baking sheet
Dollop the jam and spread it out
Freeze overnight
Roll with the help of a spatula
Results
This one was also really good, and it rolled too. Again, this one melted pretty quickly. I would recommend that instead of using jam to either use strawberry syrup or just fresh chopped strawberries for a stronger flavor.
(This could serve 3-4 bowls)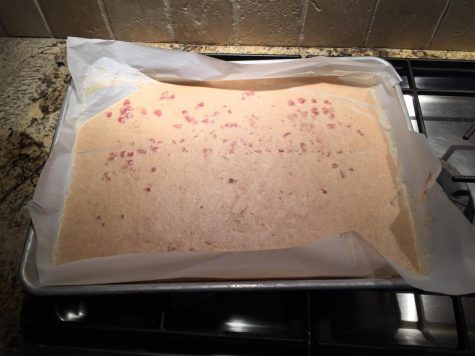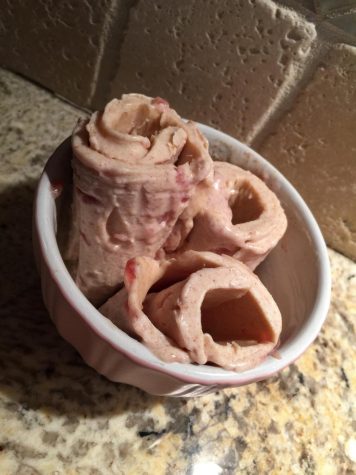 ---
TRIAL FOUR: M&M
Ingredients
1 1/4 cup of heavy whipping cream
About 8 ounces of sweetened condensed milk
A handful or two of crushed M&Ms
Steps
I put whipping cream and condensed milk in a mixer
Then I added the M&Ms
Mix it until they combine, but before it becomes like whipped cream
Pour it in a lined baking sheet
Freeze overnight
Roll with the help of a spatula
Results
These ones also turned out great. The M&Ms add a nice crunch. Next time I try this I might try and get the M&Ms pieces smaller but without turning them into dust. I'd also drizzle chocolate syrup and swirl it in the ice cream mixture before freezing it for an extra chocolatey flavor.
(This could serve 3-4 bowls)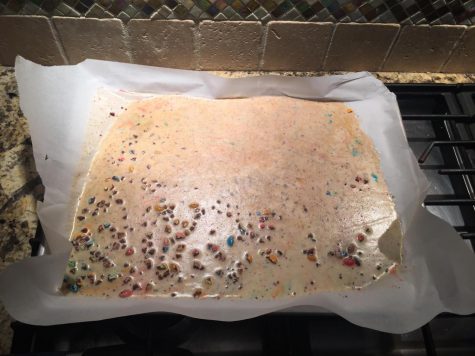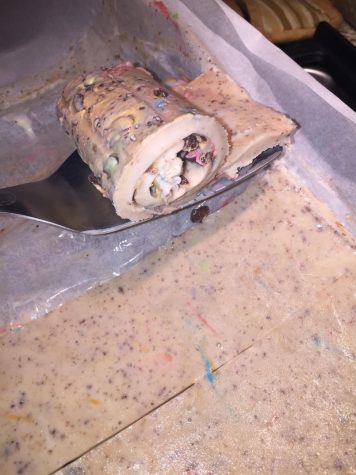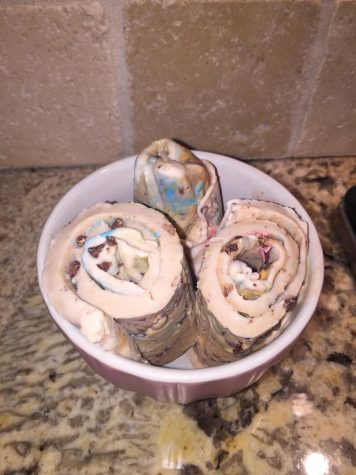 ---
HELPFUL TECHNIQUES
To crush up the Oreos or the M&Ms, put them in a Ziplock bag and crush them with a rolling pin. For stubborn M&Ms, hit them with a spoon to break them up.
Before using the spatula to roll the ice cream, try rolling up the edge of the parchment paper to give the edges a rounded shape.
To prevent the parchment paper from creasing, it helps to spray the baking tray with cooking spray to give the parchment something to stick to. You could also just forgo the baking sheet.
The best method I found for rolling if one side of the ice cream is thinner than the other is to start on the thinner side and scrape off just a small area with the spatula and begin rolling it. Then begin working your way down, scraping it and rolling by small spaces as you continue.
---
FINAL VERDICT
It was overall really fun to test out and make homemade ice cream. The main thing to keep in mind is the ratio of about 1 cup of heavy whipping for every 6 or so ounces of condensed milk (it really depends on how strong you want the condensed milk flavor to be). From there you can add just about anything you want, whether it be Oreos, M&Ms, cookies, or even just chocolate. When pouring, try keeping the layer thin, and when rolling it to work quickly before the ice cream melts. At first it was a bit challenging to roll the ice cream, but after a few tries I got better. I would recommend anyone to try this out, even just for fun.
Also, leave a comment suggesting a trend or recipe you'd like to see tested out!