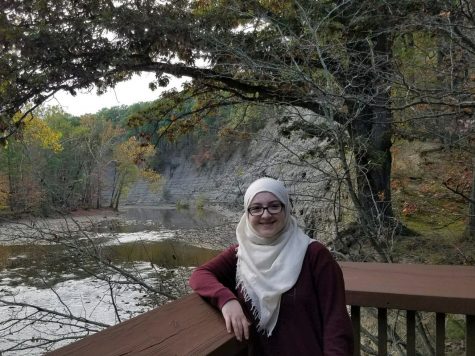 Hello! My name is Nour Lababede. I am a junior this year at Westlake High School. My position in The Green & White is News Editor. I have been involved in the school newspaper since the beginning of my sophomore year of high school. Being a part of The Green & White is an incredible opportunity that I feel lucky to be experiencing along with my fellow writers and friends.
I would describe myself as an optimistic person who is always happy to help when someone is in need. I'm also a mild perfectionist, which pushes me to devote my time and effort to complete my tasks in the best way that I can. I would also describe myself as creative, organized, and artistic.
In my free time, I love to spend time with my family. I have two younger sisters and a little brother. I also love drawing, reading, baking, and decorating cakes. Another hobby of mine is taking photos of nature. I cherish the time I spend outdoors, especially when the weather is nice and warm in the summer and autumn months.
If you have an interesting local news story that you would like to be published in The Green & White, feel free to email us at:
[email protected]
Thank you for checking out The Green & White and I hope you enjoy everything we have to offer!
Nour Lababede, News Editor
Sep 16, 2018

Five Ways to Have a Successful School Year

(Story)

Feb 21, 2018

WHS Students Join the National Walk Out Movement

(Story)

Feb 09, 2018

Fashion Focus: Ghazal Adibi

(Story)

Feb 06, 2018
Dec 19, 2017

Addressing the Rumors: What to Know about Drug Testing

(Story)

Dec 01, 2017

Book and Film Review: Wonder

(Story)

Oct 21, 2017

The 2017 Fall Festival in Photos

(Story/Media)

Oct 13, 2017

A Plethora of Hurricanes: The Aftermath of These Disasters

(Story)