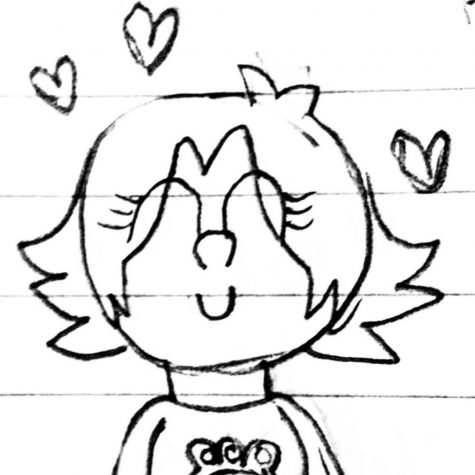 Hello reader!
My name is Carolyn Bedell. I am currently a senior at Westlake High School and I'm over the Creative Writing section of the Green and White.
I have been a part of the Green and White for the past two years, but honestly, I wish I'd started Freshman year. Last year I impressed the current editor-in-chief so much with my short stories and poetry that she gave me my own Creative Writing section, but honestly, anyone is free to send me or the editors their original content to be featured in this section. I have always been writing creative short stories since I was a kid and it has been so much fun seeing my work published and hearing feedback from my peers. (I can thank Mr. Friedrich for pushing me to share my works with others, and I do suggest that every student who loves writing take his Creative Writing class- you'll thank me later.)
Continuing my creative side, I am currently in AP Studio Art, Animation Club (which I founded and am the current president), and National Arts Honors Society. Last summer, I also participated in a pre-college program at the Savannah College of Art and Design. I have been accepted to SCAD and I hope to continue my education there next year, with a major in Animation and a minor in Creative Writing. Art has been a huge part of who I am, and I would love to give a shout out to Mrs Atkinson and Mr Wilson, who have inspired and helped me develop my artistic talent throughout these past four years.
When I'm not writing or doing art, I'm usually hanging out with friends, playing the ukulele, or watching/listening to musicals. My favorite book (and musical!) has to be
Be More Chill
by Ned Vizzini, and my favorite people are my parents and my boyfriend (who drew up my profile picture- you're the best!).
I hope you all enjoy what I have in store for the Creative Writing section of the Green and White this year.
Thanks for reading!
- CB
Carolyn Bedell, Writer
Apr 29, 2018

Disney/Pixar's Coco is a Masterpiece

(Story)

Mar 09, 2018

Top 10 "Teenage-Years" Songs

(Story)

Feb 17, 2018

WHS Senior Honored for Volunteerism

(Story)

Dec 13, 2017

Unraveling Strings: Four Places of Comfort

(Story)

Dec 04, 2017
Nov 30, 2017
Nov 20, 2017

Why Should You Participate in a Pre-College Program?

(Story)

Oct 20, 2017

Creative Writing: Four Places of Comfort

(Story)