Sheffield Comic Book Store "Comics Are Go!" Hosting First Art Expo
After their presence at many Comic-Cons and other comic book related events, acclaimed comic book store "Comics Are Go!" are organizing their "Comics Are ART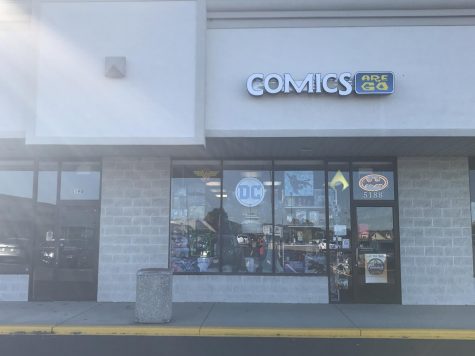 Expo" on Saturday, October 20th. It's set to be from 5:00-8:00 PM in a storage room right next to the store, being in the same plaza as the store, Sheffield Village Plaza. According to the promotion poster, the art exhibition is set to have original classic comic art, color guides (the definition will be explained later), sketches, and appearances from local artists. In light of the event, Green and White decided to interview the "Comics Are Go!" staff into more on the upcoming exposition's background and what it has to offer.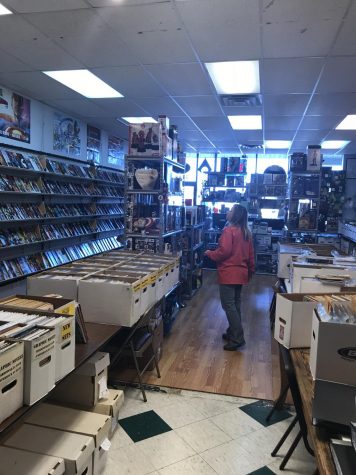 -Interior of the "Comics Are Go!" store (address is 5188 Detroit Rd, Sheffield Village, OH 44035)
Is the Art Expo like Comic-Con, where you can buy art, or simply a normal art exhibition where everything is unsellable?
"Comics Are Go!": It would be a little bit of both. There'll be some things for sale and some things just to look at.
Was there an event that "Comics Are Go!" was involved in similar to your upcoming Art Expo that happened in the past?
"Comics Are Go!": Nope. For the most part, we just go and do comic book conventions and stuff like that. So, that'll be our first time doing anything.
What artists does "Comics Are Go!" plan to show off the most during the Art Expo?
"Comics Are Go!": Oh, well, there'll be a couple of different people with art there. We don't know who will be the most represented. It'll be a lot of DC and Marvel comic book art. We don't know who will be the most represented… we have a variety of everything. Something else featured will be lots of classic and vintage art as well.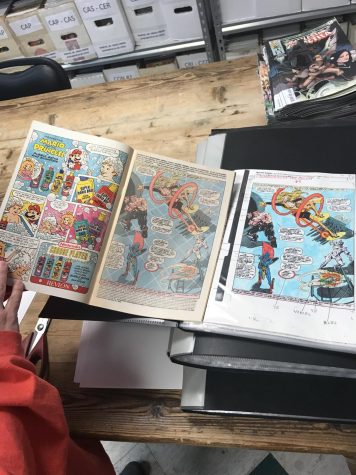 –A side-by-side comparison of a "Guardians of the Galaxy" comic in the newspaper with the original artwork (color guide), set to be featured at the Art Expo. The colorist, Evelyn Stein, is credited with coloring a huge catalog of comics for Marvel. The symbols directed towards the different colors (YR, R2B2, etc.) each symbolize a different color and are written in order for the printer to understand printing directions.
Is your Art Expo more than just an Art Expo?
"Comics Are Go!": No, this one is pretty much just art. But there'll be guests artists and somebody there doing sketches, and for the most part it will just be about coming to see the art.
Do you have big plans for your Art Expos in the future?
"Comics Are Go!": We'd like to make it a recurring thing. We'll see how this first one goes, and if we get a response and people are interested then it'll be a kind of thing we'll try to do in the future too. I think we'd like to make one every year and make it a yearly event.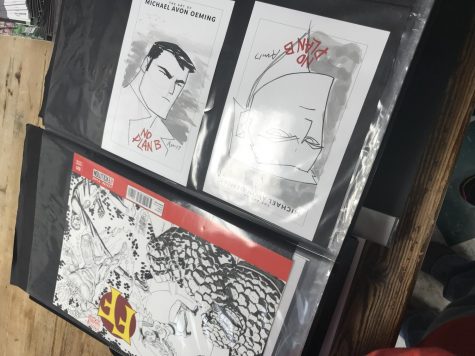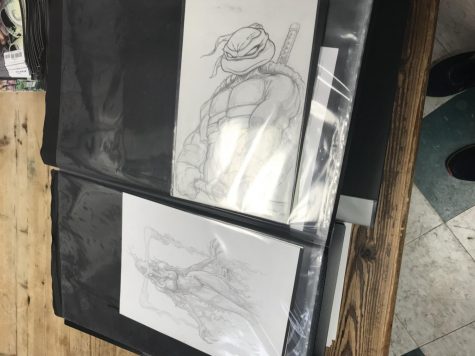 -More artwork set to be featured at the Expo.
"Comics Are ART Expo" has been advertised and promoted through flyers at comic events for the past couple of months. It should be a touchstone of artwork welcoming comic crazies, aspiring artists, and people new to comics to its doors in the Sheffield Village Plaza.