A Look Into Westlake's Baking Talent (w/Recipes!)
April 7, 2018
Do you have a sweet tooth…do you LOVE to bake in your free time? Are cookies, creams, and cakes your kryptonite? If this is you, then read on!
Westlake has all sorts of talent and several small businesses run from people's own houses. If you're an avid recreational baker looking to expand your horizons, or are just here for the incredible recipes, look no further. We contacted Cris Kennedy of the local renowned Cookies by Cris LLC and Chad Sargent, still only a WHS student, who have honed their talents…in baking!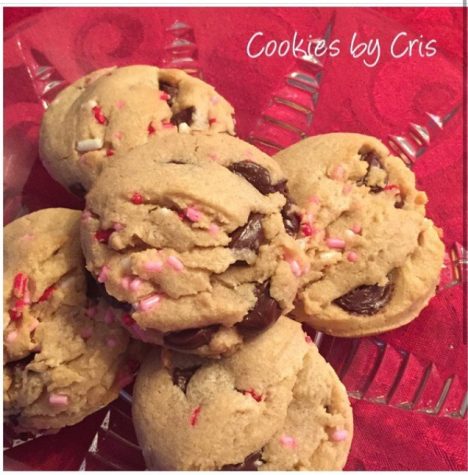 Starting a business can seem daunting, even at the local level. However, when you have a passion for something, it'll fall into place just as it did for Mrs. Kennedy. Take a look at how she realized that she could use her baking expertise to start an immensely popular business:
"I started my business, Cookies by Cris LLC, 5 years ago baking party cookies for Nicki Nicole, a store for girls.  At that time I also provided favors at various luncheons, and attendees said, "These are so good you should sell them" – so I did!  I now bake weekly for birthday party, showers, graduations and whatever event my clients want to celebrate.  I require advanced ordering for all orders, so I am able to obtain necessary ingredients as well as firm up designs for my baked goods.  I receive a lot of orders from word of mouth, but most of my clients are obtained via my Facebook page.  I am also on Twitter, Instagram and Pinterest.  Orders can be placed via phone or my Facebook page."
With a combination of social media, hard work and grit, demand, and high quality product, entrepreneurs of any age can take off.
Chad Sargent bakes and cooks all sorts of delicacies. Although he's not engaged in a full time business (he is in high school, after all, and we all know you don't get too much free time after homework!), he has profited off of his specialty of cupcakes when friends and family have ordered them for special occasions. Some of these include the 4th of July and even an engagement party.
Here's a recipe for chocolate-chip cookies from Mrs. Kennedy:
Chocolate Chip Cookies
5 cups flour
1 1/2 tsp. baking soda
1 1/2 tsp. salt
3 sticks of margarine or butter
1 1/2 cups granulated sugar
1 1/2 cups brown sugar
1 tsp. vanilla
2 eggs
1 1/2 – 2 bags chocolate chips
Mix dry ingredients together in large bowl & set aside. Cream margarine, eggs & vanilla then add to dry ingredients. Fold in chocolate chips. Drop by spoonful onto an ungreased cookie sheet. Bake at 350 degrees for 10 – 12 minutes. Yield: 4 dozen
…and another recipe from Chad!
Buttercream Recipe
1 cup unsalted butter, softened
3 1/2 cups powdered sugar
1/8 teaspoon of salt
2 teaspoons milk
1 teaspoon vanilla extract
1) Mix the butter on a low speed, slowly adding the powdered sugar, about half a cup at a time.
2) Once all the powdered sugar has been incorporated, add the salt and milk. Mix. Depending on how soft your butter was, you may need to add a little more/less milk to reach desired consistency.
3) Add the vanilla extract, and mix. If you plan on dying the frosting, using clear vanilla is best for a purer color, but tastes worse than pure vanilla, so I usually use half a teaspoon of clear vanilla extract and half a teaspoon of almond extract.