WHS's New Store
Hang on for a minute...we're trying to find some more stories you might like.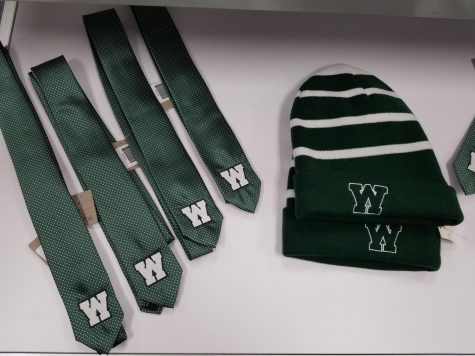 Westlake High School officially opened its new store, called 'The W Shop', on Friday, February 2, 2018. The Westlake Demons Athletic Boosters helped make this possible. To find out more about this exciting new addition, I interviewed Kelly Ilg, a member of the WDAB and a chairperson for the spirit shop.
Green & White: Did WHS ever have an on-campus store before?
Kelly Ilg: There has never been a permanent store location before, however, it has been a goal of ours the past couple years.
GW: What types of items will be sold in the store?
KI: The W Shop carries a variety of merchandise including men's, women's, and youth apparel such as shirts, sweatshirts, jackets, shorts, joggers, pajama pants, etc. to fan gear like magnets, tattoos, foam fingers, demon horns, pop sockets, blankets, stadium seats, and lots more.
GW: How often do you think new products will be offered for sale? 
KI: For the remainder of the school year, The W Shop will be open approximately 4-5 times per month. There will be 1-2 days that it will be open during the school day and 2-3 evenings when there are special WHS events. In terms of new products, we are continually introducing new items. Especially now with a dedicated space, we are excited to expand the merchandise offered.
GW: What inspired the creation of this store?
KI: Before The W Shop opened, WDAB (Westlake Demon Athletic Boosters) was only able to offer spirit wear during fall at the home varsity football games. Other than the holiday sale and occasional spring events, spirit wear was not really available for purchase. The biggest benefit of The W Shop is spirit wear is now much more accessible year round.
GW: Do you have any interesting facts or backstories you would like to share with Westlake students and their families?
KI: An interesting backstory is that the space where The W Shop is located was a staff lunchroom. Paul Wilson noticed it wasn't used often and by very few so, he offered it to WDAB to use for a store. Four months later and a lot of hard work by WDAB volunteers, The W Shop opened. Another great story is that The W Shop features Chad's Corner. It's an area dedicated to "Westlake's #1 Fan.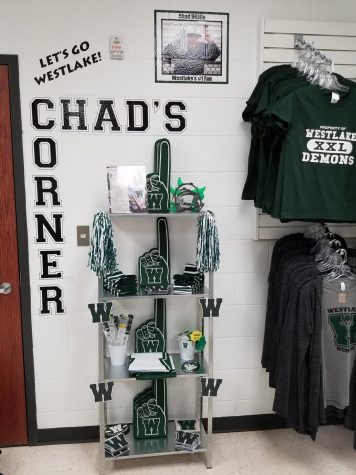 ---
Here are the store hours for February 2018:
Friday, February 9th- 10:00 am to  2:00 pm
Friday, February 16th- 6:30 pm to 8:00 pm 
Friday, February 23rd- 10:00 am to 2:00 pm
---