Fashion Focus: The Bogarts
Here's an interview with Maisy and Jolie Bogart who are juniors at WHS. This is a welcome to our new page "Lifestyle" where we talk about lifestyle, fashion, food, and travel.
Hang on for a minute...we're trying to find some more stories you might like.
How would you describe your style?
Maisy: Different. I'd say it changes from day to day.
Jolie: I like to wear jewlery with my outfits.
Maisy: I like to wear jackets.
What does your style say about your personalities?
Jolie: I'm more outgoing. These pants show that. I like to stand out with what I wear.
Maisy: It shows that we're different. And I can show who I am to other people.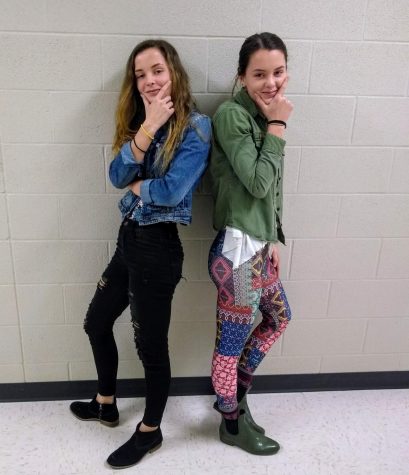 From left to right: Maisy, Jolie
How would you describe each other?
Jolie: Not to be mean, but she [Maisy] dresses more boyish and I dress more girly.
Maisy: I agree.
Why?
Maisy: I don't know, but I guess I am more tomboyish in general. I like sports more than her [Jolie].
Any twin rules: what you can and can't wear?
Jolie: No, we share everything.
Where do you shop?
Jolie: Mostly American Eagle, J Crew, sometimes Anthropologie.
Maisy: Pretty much all of our clothes are from American Eagle, but other little things are from other places.
Do you have a job? If so, where?
Jolie: Yes, at the Lakewood Country Club.
Maisy: We caddy there during the summer.
Have you always dressed the way you do?
Maisy: No, when we were younger our parents used to make us wear the same thing. I guess I started wearing nice clothes in high school.
Jolie: Yeah, in Burneson I really didn't wear as much nice clothes.
Did you ever go through any trend that you regret?
Jolie: Yes, feathers in the hair. Not a good thing. I used to wear my hair really weird. I really regret that. I used to have these neon pants. I regret those.
Maisy: I used to wear Tims a lot. Yeah, I regret that.
Do you dress up for fun or only when you have to?
Jolie: For fun.
Maisy: For fun, every day. To school.
Jolie: Yeah to school, and if I'm hanging out with my friends, I'll get dressed up.
Favorite color?
Jolie: Lavender
Maisy: Blue
Favorite Brand, no matter how expensive?
Jolie: Fenti
Maisy: I like Vince because I like their shoes a lot. I mean, I like American Eagle because that's basically what I wear all the time… No, actually, I'll change my favorite brand to Free People.
Favorite piece of clothing?
Jolie: I just got this fur jacket that I really like.
Maisy: My sister got me this black bomber jacket that I wear a lot.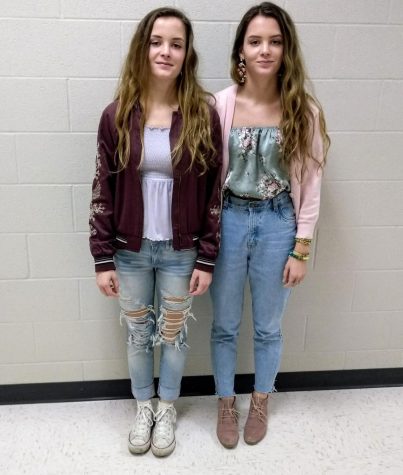 From left to right: Maisy, Jolie
How would you describe your wardrobe?
Jolie: Colorful.
Maisy: Big. Our closet is packed with clothes.
Why do you dress the way you do?
Maisy: I like to look nice everyday. It makes me feel better.
Jolie: Look good. Feel good. Do good.
Favorite pattern?
Maisy: Flowers.
Jolie: Stripes.
Pattern or colorblock?
Both: Pattern.
Urban chic, bohemian, or punk?
Maisy: Bohemian, Free People kind of style.
Favorite Material?
Jolie: Fur.
Maisy: Velvet.
Sneakers or heels?
Both: Sneakers.
Favorite shoes?
Both: Our Adidas sneakers.
How do you like to wear your hair?
Jolie: Curled with a curling iron.
Maisy: My natural hair.
Tips to others?
Maisy: Be you. Wear what you want.